Ready for European Roads
MacDon M2 NT (Narrow Transport) Series Windrowers
Imagen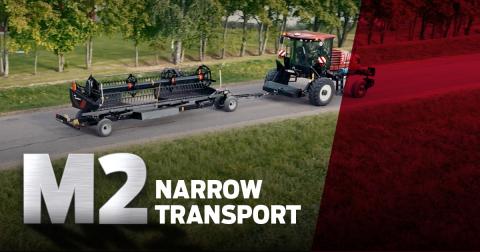 Product Release Date: September 2023
MacDon M2 NT (Narrow Transport) Series Windrowers.  
Performance in the field and on the road.  
Engineered specifically for European roads, the MacDon M2170 NT (Narrow Transport) seamlessly combines full-sized harvesting capabilities with a road-friendly design. Its stage 5 Cummins turbo diesel engine meets global emission standards while delivering enhanced power, improved efficiency, and simplified maintenance. The M2's HarvestTouch™ Display provides simple control with an intuitive touchscreen interface to keep you productive all day. Plus, all the usual goodies that make MacDon Windrowers a cut above, like Dual Direction Steering, 360 Degree Night Vision, CrossFlex™ Suspension, and more. Get more all harvest long with MacDon M2 Windrowers.
Learn More About M2 NT Windrowers
MacDon's Press Media Center 
MacDon Press Media Center - M2 NT Windrowers