EMILI and MacDon Collaborate to Advance Digital Agriculture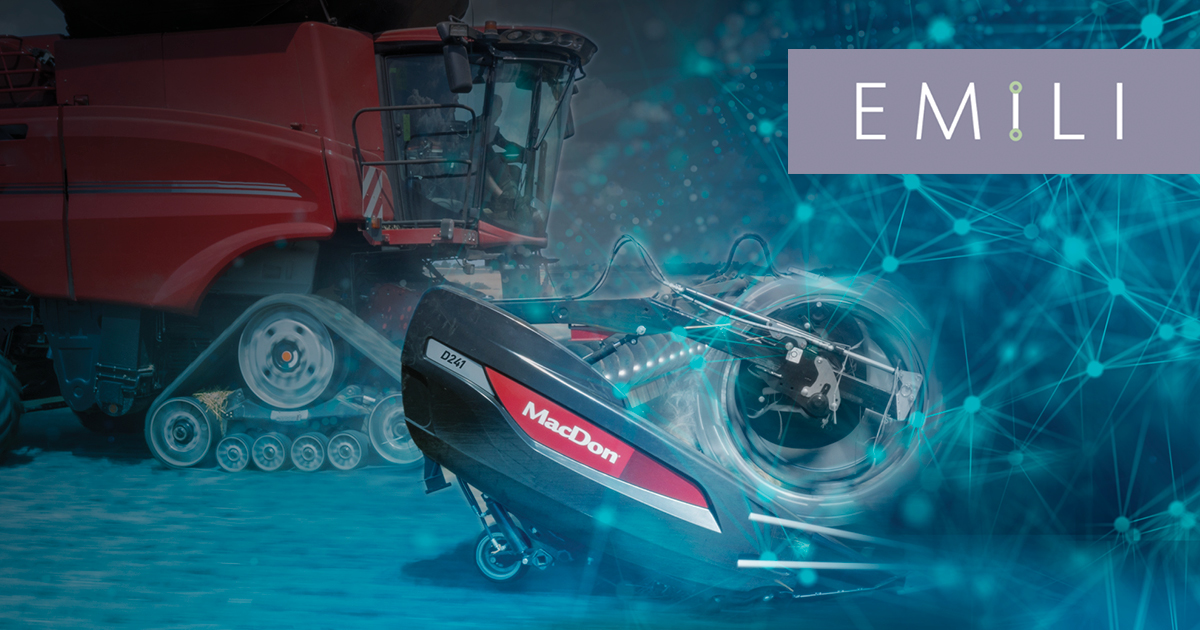 Over the next 5 years, MacDon is contributing over $450,000 in funding, resources, and harvesting expertise, toward EMILI's Advancing Digital Agriculture Project which aims to expand technology and education initiatives in the agri-food sector.
MacDon's contribution to EMILI's Advancing Digital Agriculture project includes financial support, high-performance harvesting equipment and related resources, technical knowledge, and strategic guidance to increase the integration of intelligent technologies. 
Key elements of the project include testing and validating new technologies to demonstrate the commercial viability of digital tools at EMILI's Innovation Farms Powered by AgExpert. MacDon's cutting-edge equipment and expertise will increase the capacity of this project.
With MacDon's support, the Explore Program, developing and deploying educational STEM resources to youth, will have an even greater capacity to address the widening skills gap. This project has engaged more than 58,000 youth across the prairies in its first two years.
A series of world events have brought a new sense of urgency to the importance of this work. Every day in the news, we are faced with stories of climate change, the war in Ukraine, the ongoing effects of the pandemic and an extremely competitive global talent market. 
"As these and other issues impact our agri-food systems and supply chains, working together to accelerate innovation in digital agriculture is more important than ever," said EMILI Managing Director Jacqueline Keena.
With a team of more than 250 STEM-related employees, a reputation for global leadership, and decades of industry-leading innovations, this support is instrumental to the long-term economic and environmental sustainability of Manitoba's agri-tech sector.
"We are extremely grateful to MacDon for being so generous with their knowledge and resources," Keena said. "With nearly 75 years in business, they continue to pursue innovation with the energy of a start-up. It's rare for such a long-established organization to remain as cutting edge as MacDon, and we are thrilled to collaborate with them."
Having support from long-standing organizations like MacDon (which comes in addition to the  Fall 2022 funding this project received from PrairiesCan, Farm Credit Canada, Enns Brothers Ltd, The Family of Jake Enns Ag Innovation Legacy Fund, John Deere Canada, Rutherford Farms, and Access Credit Union) increases EMILI's ability to support start-ups, test and validate intelligent technologies, and empower people with STEM skills, all of which has a long term environmental and economic impact. 
MacDon has a history of evolving agricultural equipment and support to improve harvesting productivity through great people and strong relationships. This program supports our mission in the best possible way, right in our own backyard, promoting Manitoba's strengths in both agriculture and innovation.
Kurt Buehler, Group President, MacDon Industries 
MacDon is keen to apply technology to meet world food demands and ever-growing needs. We have a rich, deep-rooted history of innovation, and that focus has and will continue to make us successful. 
Kiera Young, Senior Vice President, Customers, Products & Services, MacDon Industries
Watch for more stories that showcase the impact of this partnership during Innovation Farms Powered by AgExpert's upcoming harvest season.
Learn more about MacDon here, MacDon.com See their innovative FD FlexDraper® in action here, MacDon FD2 FlexDraper®

About EMILI
The Enterprise Machine Intelligence and Learning Initiative (EMILI) is an industry-led non-profit organization established to accelerate the growth of the agri-food industry in Manitoba, and the other prairie provinces, by promoting digital agriculture and digital agriculture technologies.
EMILI's digital agriculture expertise is based on its connection to industry and academia across digital agriculture and the agri-food sector. EMILI works with industry organizations and academic institutions from across the technology sector. 
About MacDon
For nearly 75 years, MacDon has been a world leader in technology, innovation, and manufacturing of high-performance harvesting equipment. Our harvesting history is rooted deep in the rich prairie heritage of Winnipeg, Manitoba, Canada. MacDon products are distributed and supported worldwide from offices in Canada, the United States, Australia, Brazil, and Germany.
MacDon's relentless pursuit of improvement is driven by the desire to make harvesting easier and more productive for farmers. Working directly with producers and custom harvesters in the most challenging real-world conditions; this relationship guides MacDon to pioneer industry-leading innovations like the FlexDraper®. As a result, MacDon has a worldwide reputation for excellence as The Harvesting Specialists, and we are proud to make equipment that help producers harvest the crops that feed the world.
EMILI Contact:
Jennifer Cox, Manager of Communications 
communications@emilicanada.com
MacDon Contact:
Carlos Andrade, Marketing Communications Manager 
marketingcreative@macdon.com